Product Description
Galvanized flexible conduit fittings EMT Conduit to Flexible Conduit Connector combination coupling 
Description
Galvanized flexible conduit fittings EMT Conduit to Flexible Conduit Connector combination coupling 
| | |
| --- | --- |
| Product Name | Galvanized flexible conduit fittings EMT Conduit to Flexible Conduit Connector combination coupling  |
| Place of origin | China |
| Material | zinc die cast |
| Size | 1/2″-4″ |
| Function | Use to connecto flexible conduit to box  |
Specifications
Galvanized flexible conduit fittings EMT Conduit to Flexible Conduit Connector combination coupling 
| | |
| --- | --- |
| CAT# | Size |
| SSC-050 | 1/2″ |
| SSC-075 | 3/4″ |
| SSC-100 | 1″ |
| SSC-125 | 11/4″ |
| SSC-150 | 11/2″ |
| SSC-200 | 2″ |
| SSC-250 | 21/2″ |
| SSC-300 | 3″ |
| SSC-400 | 4″ |
Application :
To connector the galvanized flexible conduit to box 
Flexible conduit and fittings
 
Galvanized flexible conduit fittings EMT Conduit to Flexible Conduit Connector combination coupling 

Packing 
Galvanized flexible conduit fittings EMT Conduit to Flexible Conduit Connector combination coupling 

Company profile
FAQ
Q1: Are you a trading company or manufacturing company?
A: Both we are, we have 2 production bases and about 10 sourcing factory to meet customer whole line items demand .
Q2:When can I get the quotation?
 A1:For regular items within 24 hours; For sprcial items or customize items need a little more time .
Q3: How can I request product samples?
A: The samples are free but courier charge will be collected. Please send us samples list and courier account number.
Q4: How can I request a product catalog?  
A: Pls send us your email and we will send you our e catalog ( pdf file ).
The PDF catalog we can send to you by email or WeTransfer.
Q5: What is your payment terms?
A:Normally 30% T/T deposit,balance against B/L copy; 
the other is irrevocable L/C 100% at sight.
Q6: How about the delivery time?
A:  Accord to your order list and quantity,mostly delivery in 30days.
Q7: How do we control the products' quality?
A: 1. high quality mold
   2. raw materials control
   3. production process quality control
   4. final inspection
   5. water testing (no leaking)
Why choose us?
1. We are China professional supply of Electrical Pipe,Strut Channel and Fittings.
2. 100% QC inspection before Shipment.
3. Best Quality & Best Service with Competitive price.Focused on Electrical Metallic conduits, fittings, C channels, and power bridge systems since 2016. Our main products are EMT, IMC, RSC steel conduits, aluminum conduits, stainless steel conduits, and fittings. C channel, Electrical junction box, flexible conduit, etc.
4.Our products widely exporting to many countries, such as the USA, Canada, Italy, Middle East, South Asian, etc. With our good quality and reputation. Warmly welcome all customers and friends to contact and cooperate with us.
5. OEM : To bring you with better profits, we can also pack the products with your own brand to avoid the direct price competition.
Our service
1. 24 hours prompt reply by email
2. Other thickness & size also available on request
3. Free samples for your reference
4. Flexible trade term and payment term
5. Excellent after-sale service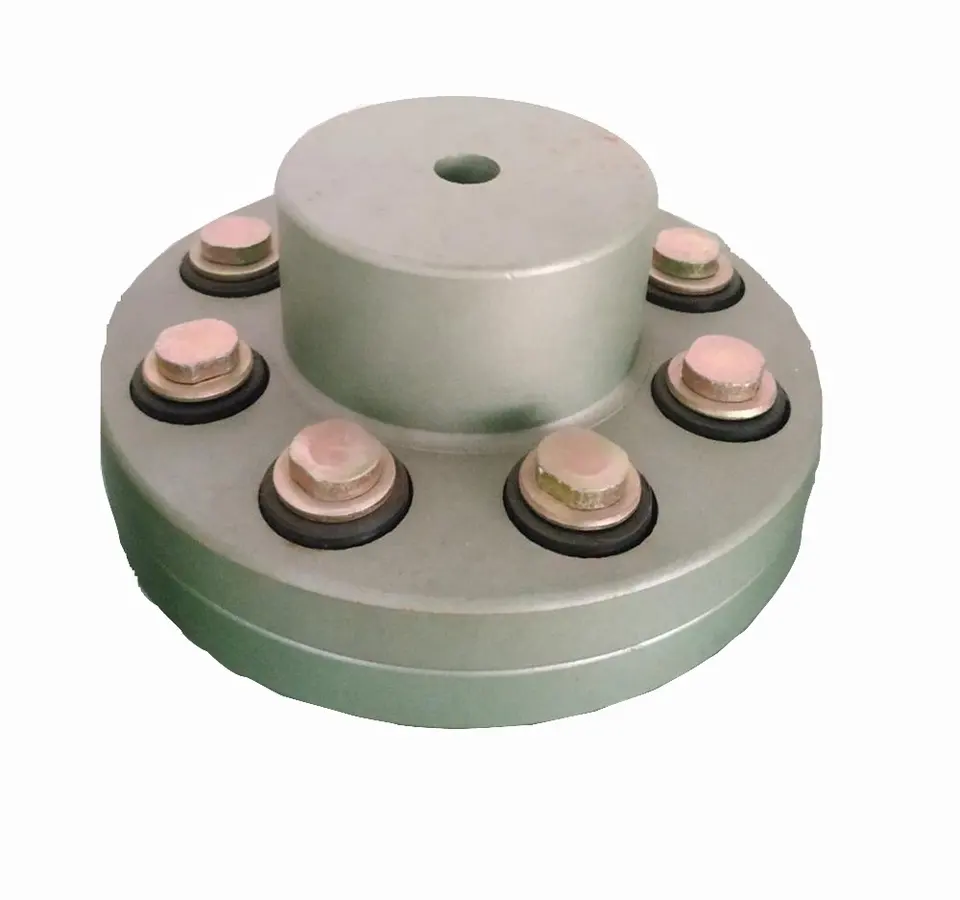 Can flexible couplings be used in heavy-duty applications such as mining and construction?
Yes, flexible couplings can be used in heavy-duty applications such as mining and construction, where the equipment operates under challenging conditions and encounters high loads, vibrations, and misalignments. Flexible couplings offer several advantages that make them suitable for these demanding environments:
Misalignment Compensation: Heavy-duty equipment in mining and construction may experience misalignment due to the rough terrain, uneven surfaces, or heavy loads. Flexible couplings can handle both angular and parallel misalignment, ensuring smooth power transmission even in these adverse conditions.
Shock and Vibration Absorption: Mining and construction operations often involve high-impact loads and vibrations. Flexible couplings can dampen and absorb these shocks, protecting the connected components from damage and reducing wear and tear on the equipment.
Torsional Stiffness: While flexible couplings are designed to accommodate misalignment, they still maintain a certain level of torsional stiffness to transmit torque efficiently. This is crucial in heavy-duty applications, where high torque is required to drive the machinery.
Corrosion and Contamination Resistance: In mining and construction environments, equipment may be exposed to dust, dirt, water, and chemicals. Flexible couplings made from corrosion-resistant materials can withstand these harsh conditions, ensuring reliable performance and longevity.
High Torque Transmission: Heavy-duty machinery often requires high torque transmission between the driving and driven components. Flexible couplings are capable of transmitting high torque efficiently, which is essential for the operation of large-scale equipment.
Reduced Downtime: The robustness and reliability of flexible couplings in heavy-duty applications contribute to reduced downtime. By minimizing the impact of misalignment, shocks, and vibrations, flexible couplings help prevent unexpected breakdowns and maintenance issues.
When selecting a flexible coupling for heavy-duty applications, it's important to consider the specific requirements of the machinery and the operating conditions. Factors such as the type of equipment, torque and speed requirements, environmental conditions, and expected loads should be taken into account.
Overall, flexible couplings are a versatile solution for power transmission in heavy-duty applications, providing the necessary flexibility, durability, and performance to withstand the challenges posed by the mining and construction industries.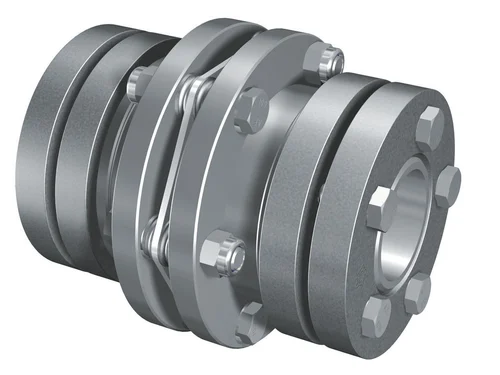 Can flexible couplings be used in power generation equipment, such as turbines and generators?
Yes, flexible couplings are commonly used in power generation equipment, including turbines and generators. These critical components of power generation systems require reliable and efficient shaft connections to transfer power from the prime mover (e.g., steam turbine, gas turbine, or internal combustion engine) to the electricity generator.
Flexible couplings play a vital role in power generation equipment for the following reasons:
Misalignment Compensation: Power generation machinery often experiences misalignment due to factors like thermal expansion, settling, and foundation shifts. Flexible couplings can accommodate these misalignments, reducing the stress on shafts and minimizing wear on connected components.
Vibration Dampening: Turbines and generators can generate significant vibrations during operation. Flexible couplings help dampen these vibrations, reducing the risk of resonance and excessive mechanical stress on the system.
Torsional Shock Absorption: Power generation equipment may encounter torsional shocks during startup and shutdown processes. Flexible couplings can absorb and dissipate these shocks, protecting the entire drivetrain from damage.
Isolation of High Torque Loads: Some power generation systems may have torque fluctuations during operation. Flexible couplings can isolate these fluctuations, preventing them from propagating to other components.
Electrical Isolation: In certain cases, flexible couplings with non-metallic elements can provide electrical isolation, preventing the transmission of electrical currents between shafts.
Power generation applications impose specific requirements on flexible couplings, such as high torque capacity, robust construction, and resistance to environmental factors like temperature and humidity. Different types of flexible couplings, including elastomeric, metallic, and composite couplings, are available to meet the varying demands of power generation equipment.
When selecting a flexible coupling for power generation equipment, engineers must consider factors such as the type of prime mover, torque and speed requirements, operating conditions, and the specific application's environmental challenges. Consulting with coupling manufacturers and following their engineering recommendations can help ensure the appropriate coupling is chosen for each power generation system.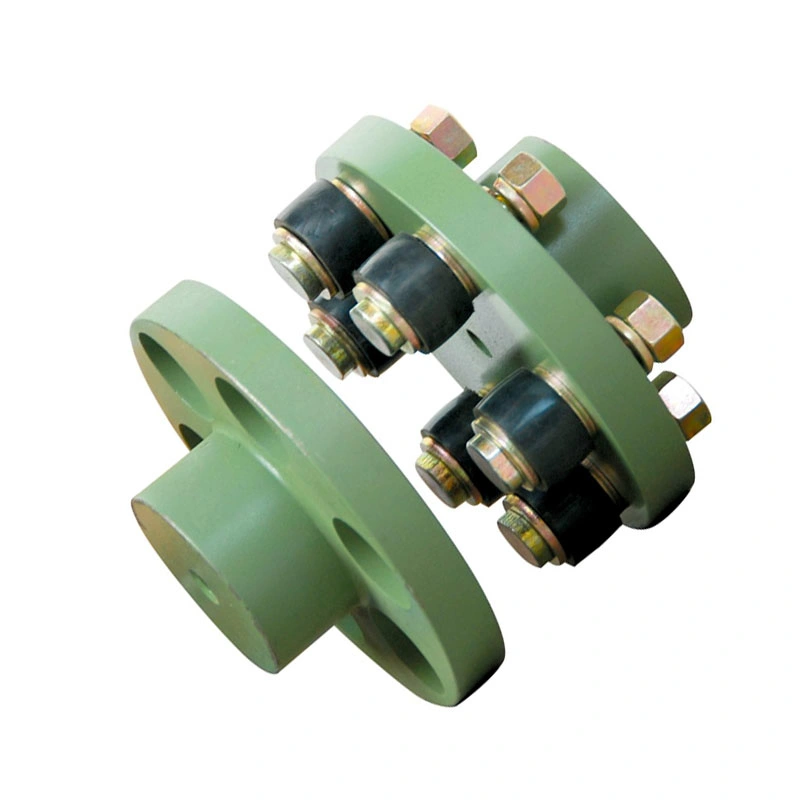 How does a flexible coupling protect connected equipment from shock loads and vibrations?
Flexible couplings play a crucial role in protecting connected equipment from shock loads and vibrations by providing damping and isolation capabilities. When machines or mechanical systems experience sudden shock loads or vibrations, the flexible coupling acts as a buffer, absorbing and dissipating the impact, thereby reducing the transmitted forces and protecting the equipment. Here's how flexible couplings achieve this:
Damping of Vibrations: Flexible couplings are often made from materials that exhibit damping properties. When vibrations are transmitted through the shafts, the flexible coupling's material can absorb a portion of the vibrational energy, converting it into heat. This dissipation of energy helps reduce the amplitude of the vibrations and prevents them from propagating further into the connected equipment.
Vibration Isolation: In addition to damping vibrations, flexible couplings also offer a degree of vibration isolation. They are designed to decouple the two shafts, which means that vibrations occurring on one shaft are not directly transmitted to the other shaft. This isolation effect prevents vibrations from propagating across the entire system and minimizes the impact on sensitive equipment or nearby components.
Shock Absorption: When the connected machinery experiences sudden shock loads, such as during a startup or abrupt changes in load, the flexible coupling can act as a shock absorber. The coupling's design allows it to deform slightly under the impact, absorbing and distributing the shock energy. This prevents the shock from being directly transferred to the connected equipment, reducing the risk of damage or premature wear.
Misalignment Compensation: Flexible couplings are capable of compensating for misalignment between the shafts. Misalignment can lead to additional stresses and vibrations in the system. By allowing for some degree of angular, parallel, and axial misalignment, the flexible coupling reduces the forces transmitted to the connected equipment and the supporting structures.
Reduction of Resonance Effects: Resonance is a phenomenon that occurs when the natural frequency of a system matches the frequency of external vibrations, leading to amplified vibrations. Flexible couplings can help avoid resonance effects by altering the system's natural frequency and providing some level of flexibility that damps the resonance response.
By incorporating a flexible coupling into the drivetrain or power transmission system, equipment manufacturers and operators can significantly improve the reliability and longevity of connected machinery. The coupling's ability to dampen vibrations, isolate shocks, and compensate for misalignment contributes to a smoother and more stable operation, reducing maintenance requirements and enhancing overall system performance.
In summary, flexible couplings act as protective elements, shielding connected equipment from shock loads and vibrations. Their ability to dampen vibrations, isolate shocks, and compensate for misalignment contributes to a smoother and more reliable operation of various mechanical systems.



editor by CX 2023-10-12